Change from the inside
Dazhi-Mino'ayaawin

"

A place of good health

"
We offer programs, supports and resources, based on the principles of restorative justice, to our clients at their various stages of involvement with the justice system. We work with individuals (18 and over), who have been or may be incarcerated, their families, victims of crime and the community to address the root causes of crime.
Our goal is to empower our clients, if found guilty, to take responsibility and be held accountable for the harm their actions have caused not just to the victims and the community but to themselves as well and to become engaged contributing members of society.
As well, we advocate on behalf of individual clients within the system and for effective, evidence-based and humane approaches to reducing crime and supporting those who are or have been in conflict with the law.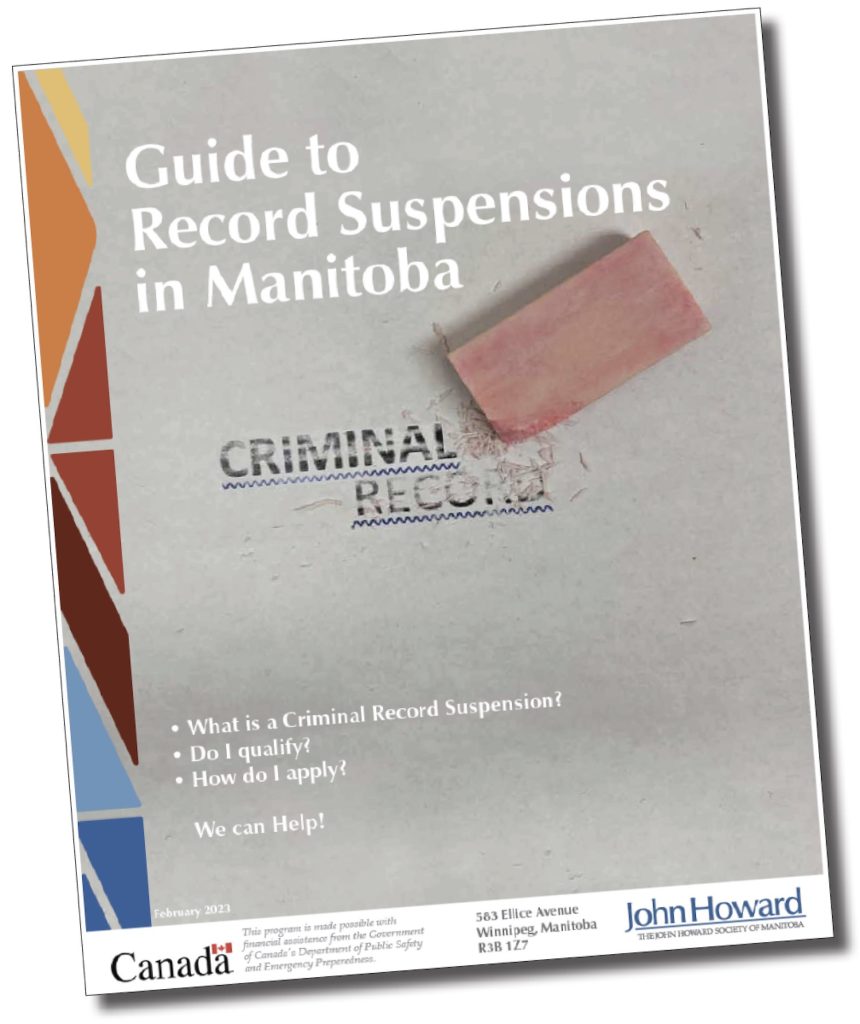 New Record Suspension/Pardon Program
Is your dated criminal record preventing you from getting a job or enjoying your quality of life? Or maybe you're looking for closure on your past and a clean slate moving forward. You have options. Explore your eligibility with our new Record Suspension program.
See more information here.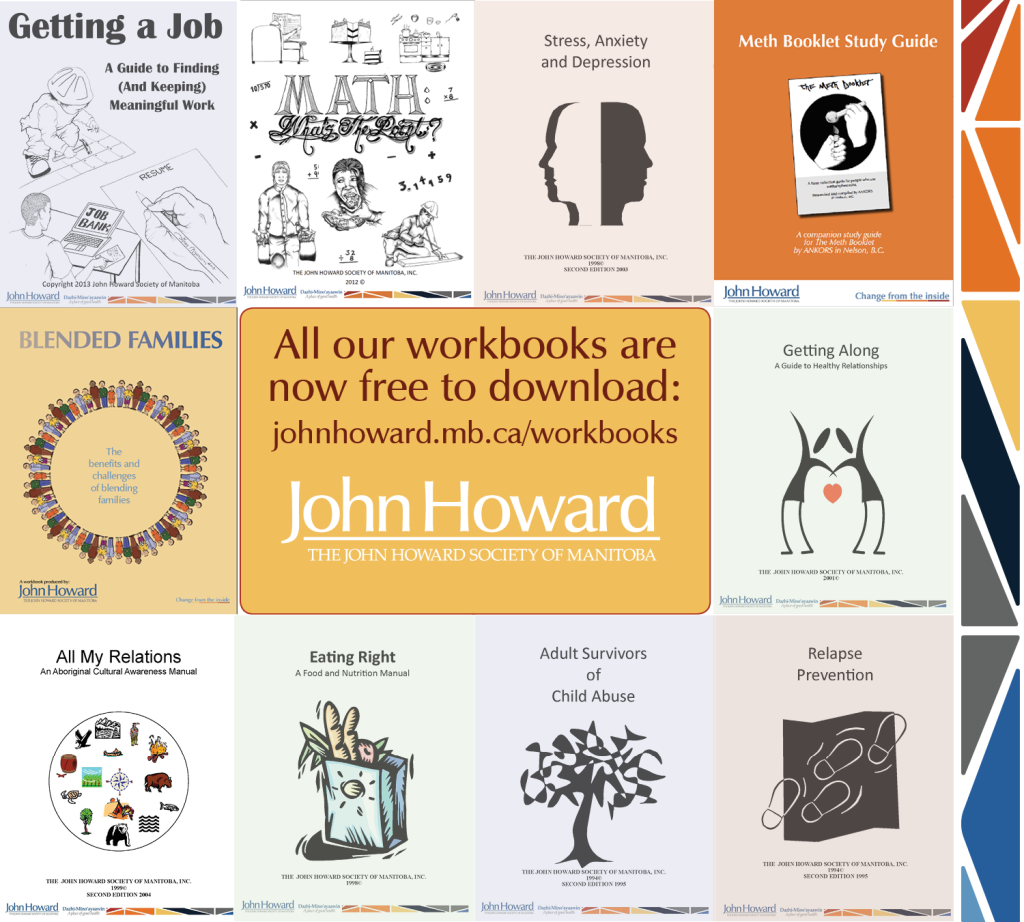 Workbooks Available
Check out our list of free workbooks available for free (as PDF downloads), from our Literacy department.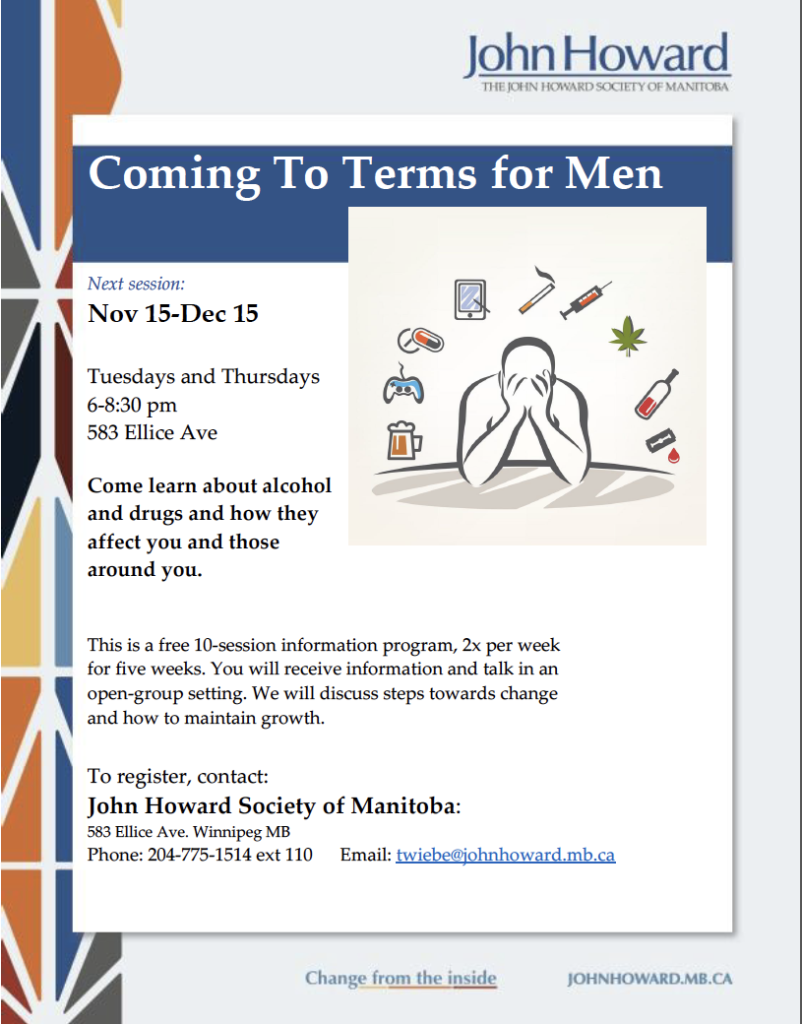 Come Learn About Addictions
Our 10-week program, Coming to Terms, starts again on Tuesday, Nov. 15. It takes place Tuesday and Thursday evenings, from 6:00 to 8:30 p.m
Coming to Terms for Men is an informational program on the effects of drugs and alcohol. It assists in evaluating the use of alcohol and other drugs, and the consequences that it may pose on our lives, as well as the lives of those around us.
This program aims to develop self-awareness by understanding the cycle of addiction. We will discuss topics such as, health consequences, cycles of dependence, denial, harm reduction, abstinence, and recovery. Please Note: This program is information only, it is not a drug treatment program.
To find out more or to book an intake appointment, please contact Tania at twiebe@johnhoward.mb.ca or 204-775-1514 ext. 110.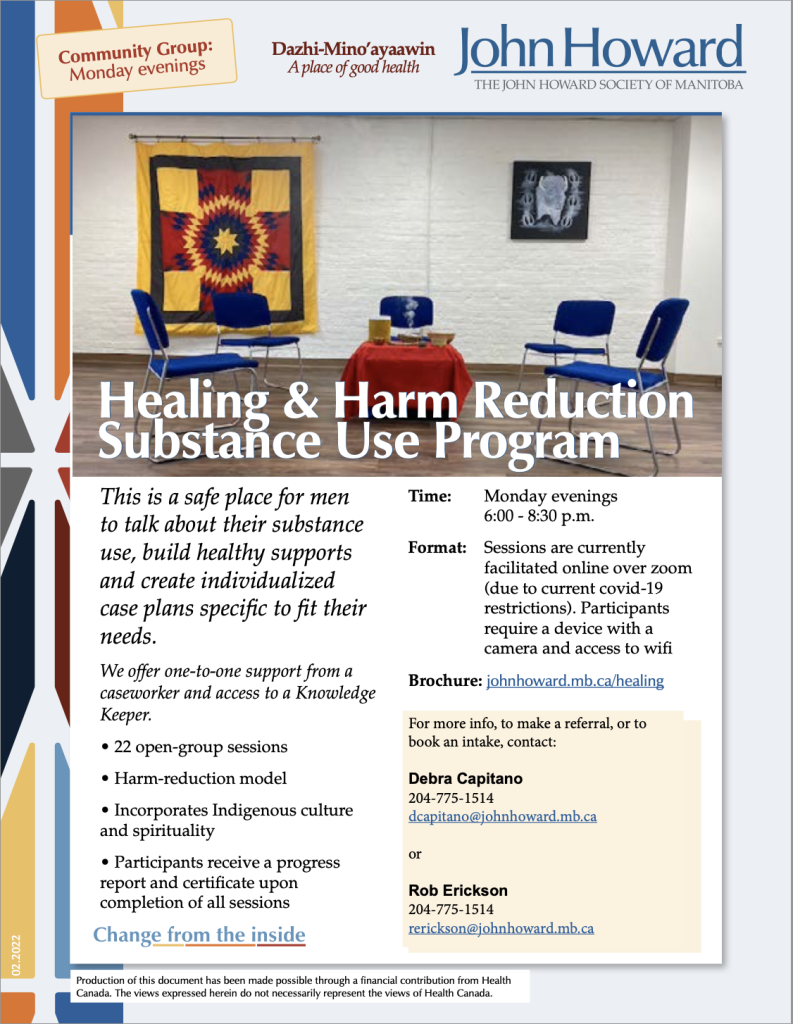 Healing and Harm Reduction Substance Use Program
A place for men to talk about their substance use and create plans specific to fit their needs; with one-to-one support from a caseworker and access to an Indigenous Spiritual Advisor.
This 22-session open group program looks at substance use from a harm reduction model while incorporating Indigenous culture. These sessions will run Monday's from 6:00 PM – 8:30 PM.
We are currently accepting referrals for Mondays, see the contact info below. See a poster at this link: Healing and Harm Reduction Substance Use Program poster.pdf
For more information or to book an intake please contact the program caseworkers:
Debra Capitano
204-775-1514
dcapitano@johnhoward.mb.ca
or
Rob Erickson
204-775-1514
rerickson@johnhoward.mb.ca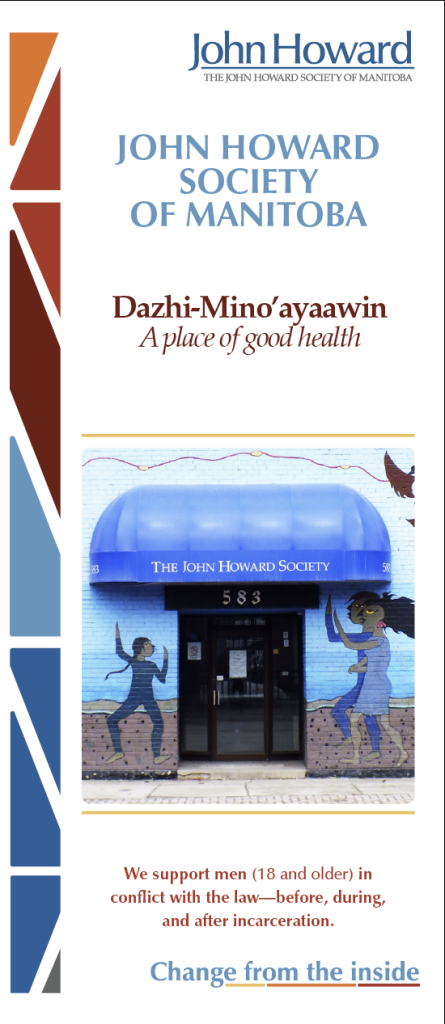 Program at a Glance
Here's a handy brochure that gives a quick look at our programs. You'll find info on Reintegration services, Literacy, Birth Cerficates, our newsletters for and from men on the inside, and more. See our general brochure PDF here.
Community Programs (March 2022-April 2023)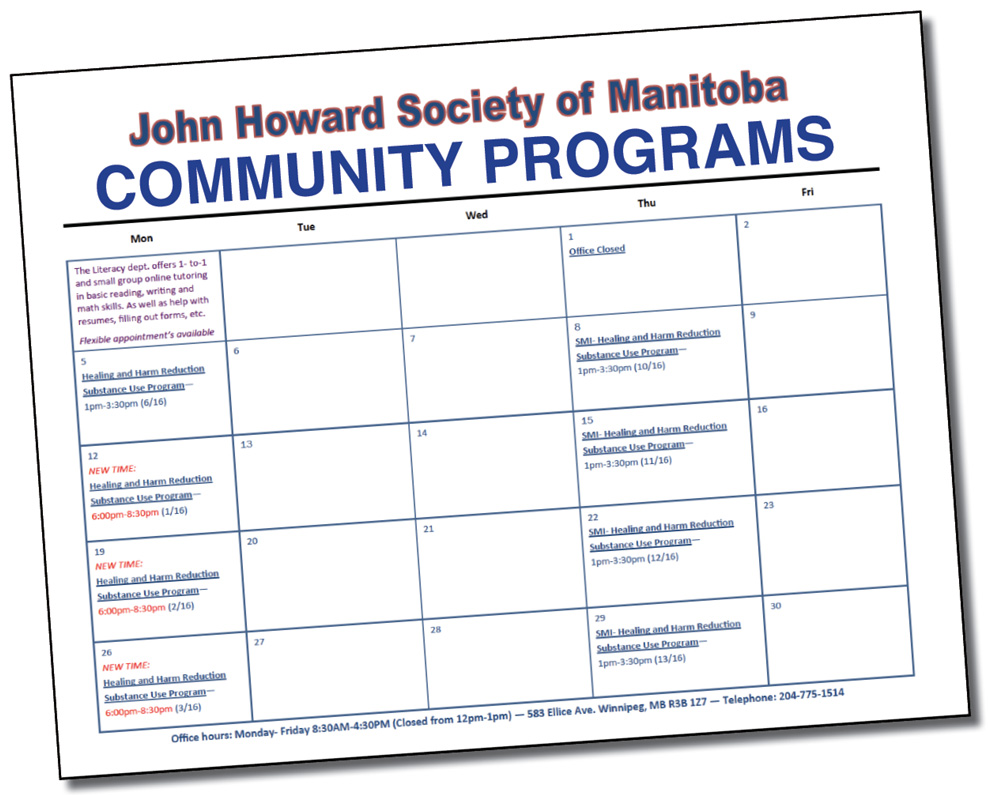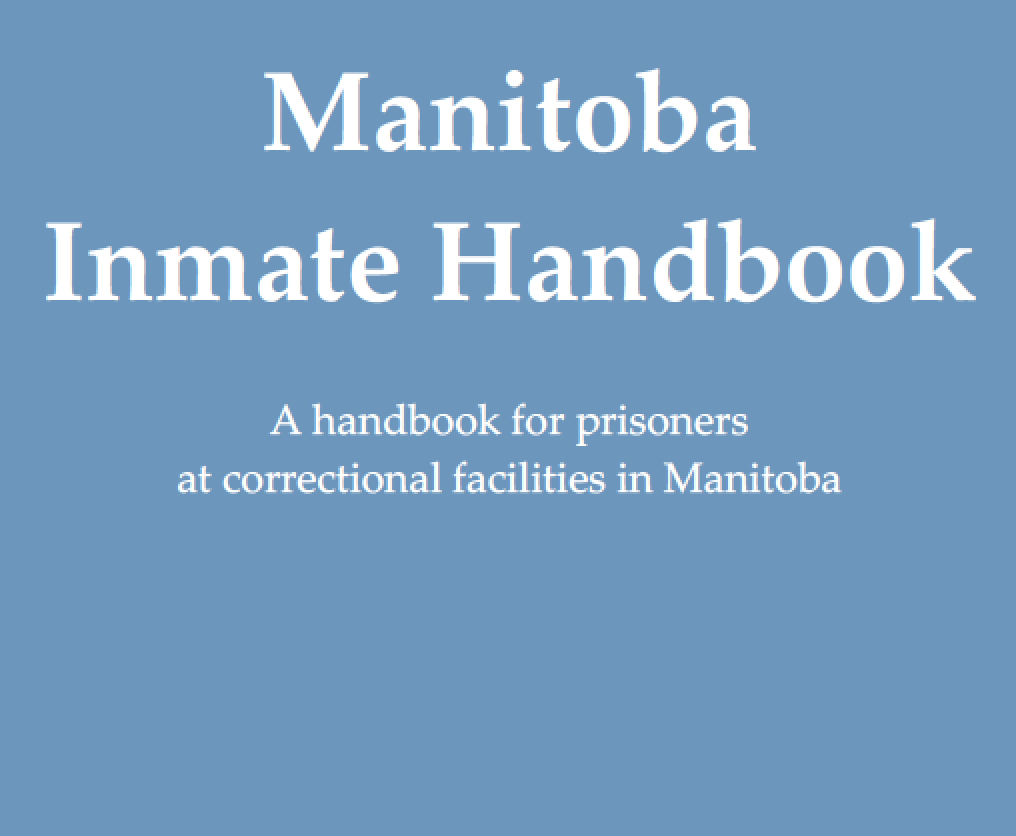 Info for newly convicted. If you have been sentenced to serve time in an institution here in Manitoba, check out the Manitoba Inmate Handbook.pdf to answer a lot of questions. It's a collection of info from our prison visitor's guide and government websites.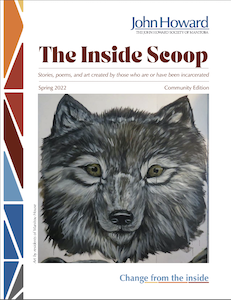 The Inside Scoop
Stories and art by those who are or have been incarcerated
We publish a newsletter twice a year called The Inside Scoop, which showcases the writing and artwork of students in our literacy program as well as criminalized people across Canada.
See more info about The Inside Scoop here.
See more about our Literacy program here.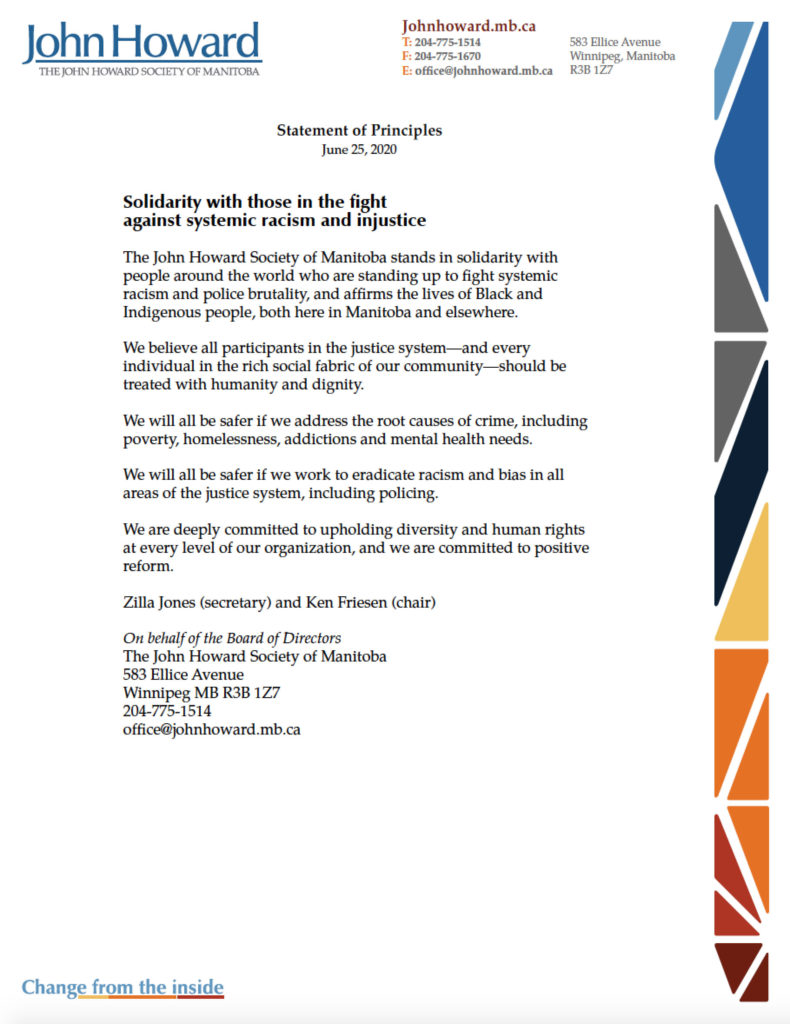 Statement of Solidarity The John Howard Society of Manitoba stands in solidarity with people around the world who are standing up to fight systemic racism and police brutality, and affirms the lives of Black and Indigenous people, both here in Manitoba and elsewhere. See our Statement of Principles here as a pdf.
Four Roads Healing Lodge
This is a new halfway house located in the heart of Winnipeg. We offer a variety of supports for men who have been incarcerated.