Change from the inside
Notice of office closure: Due to COVID 19 precautions and government orders, we are currently not open to the public. Please call for further inquiries. Staff will be checking email (see a staff listing here) and phone messages (see contact page here).
What we do
We work primarily with men (18 and over), who have been or may be incarcerated, their families, victims of crime and the community to address the root causes of crime. We offer programs, supports and resources, based on the principles of restorative justice, to our clients at their various stages of involvement with the justice system.
Our goal is to empower our clients, if found guilty, to take responsibility and be held accountable for the harm their actions have caused not just to the victims and the community but to themselves as well and to become engaged contributing members of society.
As well, we advocate on behalf of individual clients within the system and for effective, evidence-based and humane approaches to reducing crime and supporting those who are or have been in conflict with the law.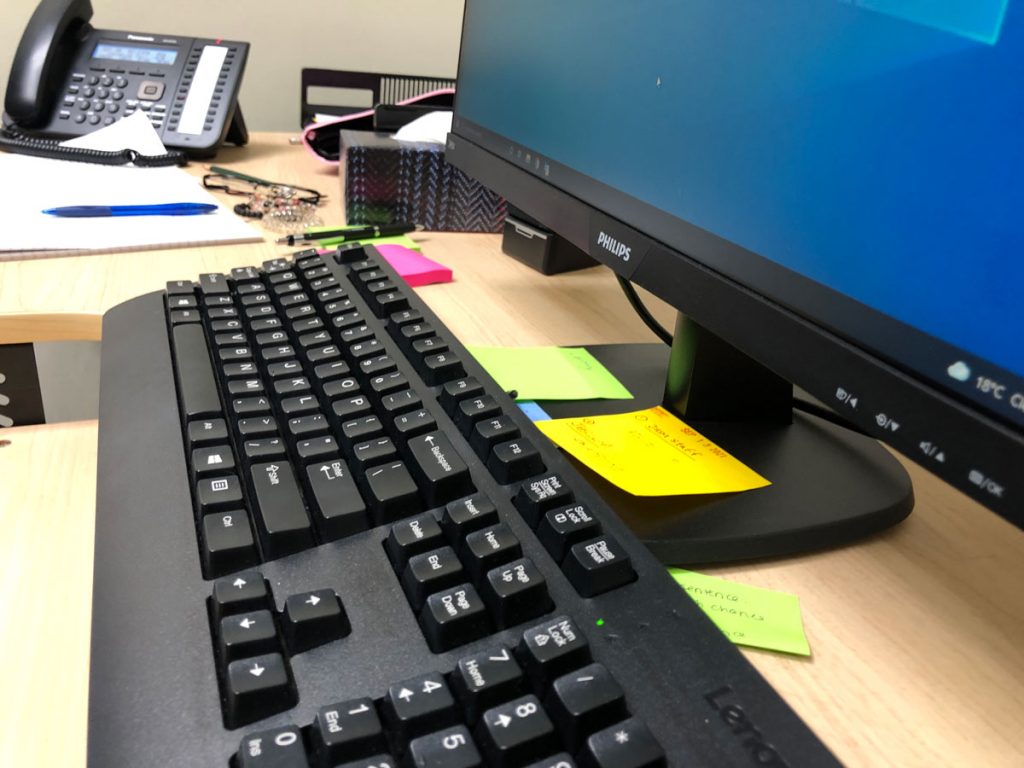 "I love it! It's very very very fast," said our newest student from the University of Manitoba's Faculty of Social Work about the computer at her work station. We offer big thanks to Assiniboine Credit Union for the community grant for 2 computers… thanks!

Community Programs (July'21-March'22)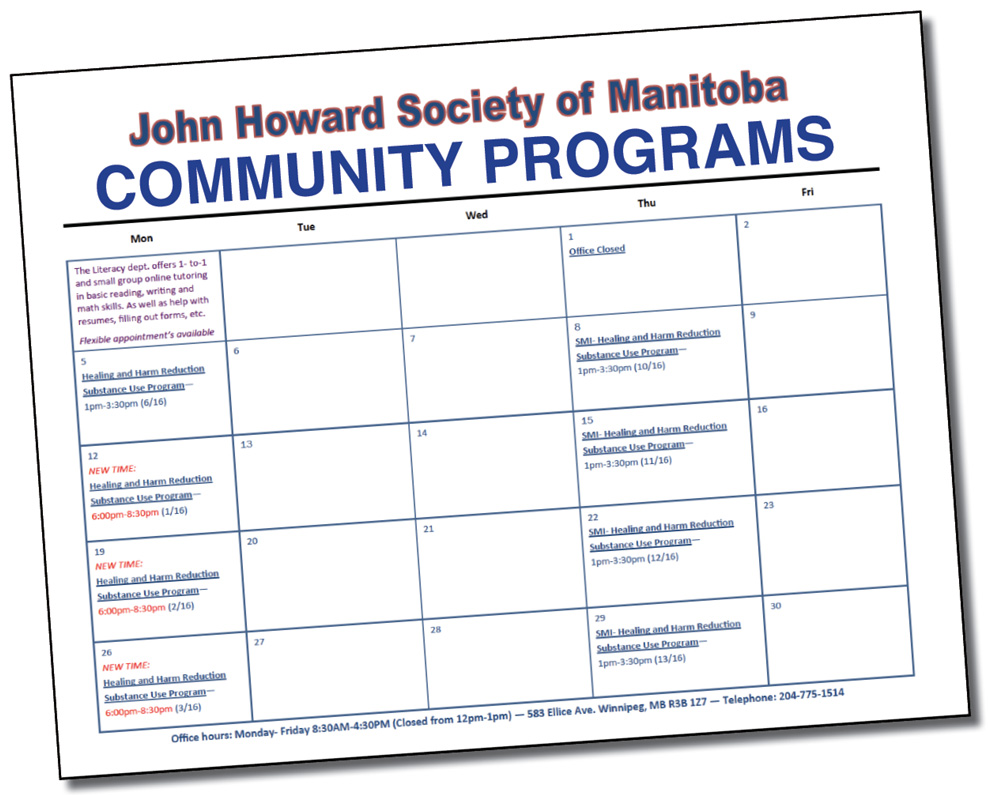 Healing and Harm Reduction Substance Use Program
A place for men to talk about their substance use and create plans specific to fit their needs; with one-to-one support from a caseworker and access to an Indigenous Spiritual Advisor.
This 16-session open group program looks at substance use from a harm reduction model while incorporating Indigenous culture. These sessions will run Monday's from 6:00 PM – 8:30 PM.
Due to COVID-19 restrictions, we are launching this new program online, through zoom, email and by telephone.
We are currently accepting referrals for Mondays, see the contact info below. See a PDF poster for this program here.
For more information or to book an intake please contact the program caseworkers:
Melissa Nolin, BSW, RSW, 204-775-1514 ext. 108 or mnolin@johnhoward.mb.ca
Robert DeCoste, 204-775-1514 ext. 107 or rdecoste@johnhoward.mb.ca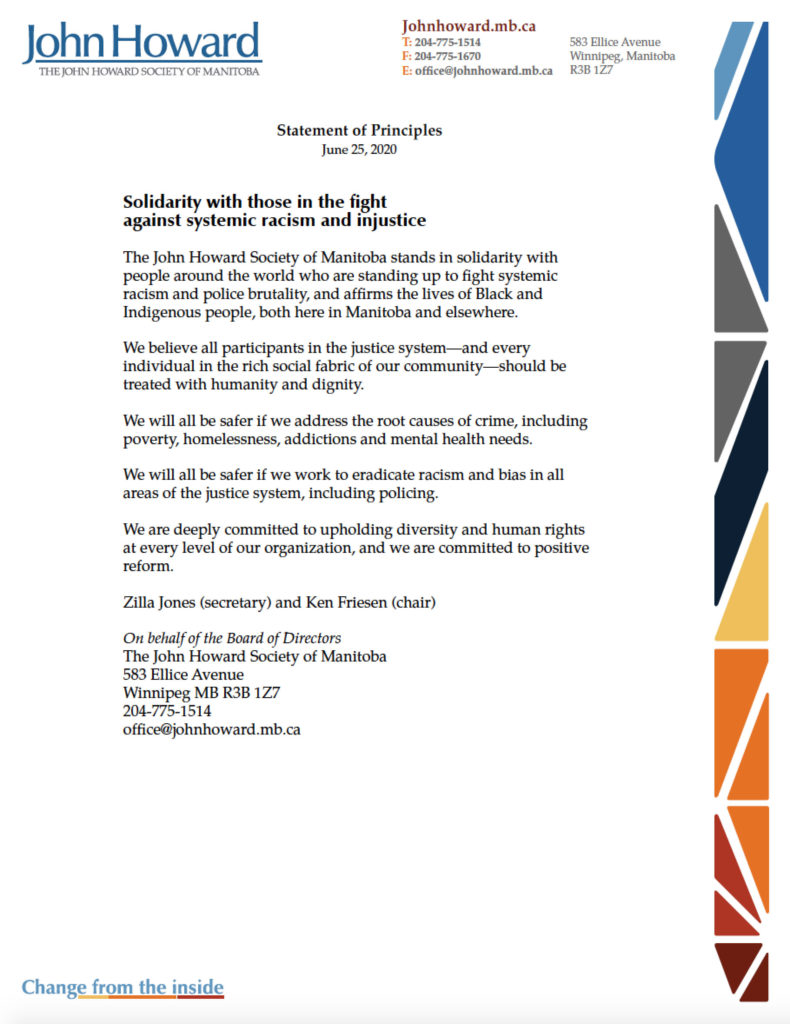 Statement of Solidarity The John Howard Society of Manitoba stands in solidarity with people around the world who are standing up to fight systemic racism and police brutality, and affirms the lives of Black and Indigenous people, both here in Manitoba and elsewhere. See our recent Statement of Principles here.
Four Roads Healing Lodge
This is a new halfway house located in the heart of Winnipeg. We offer a variety of supports for men who have been incarcerated.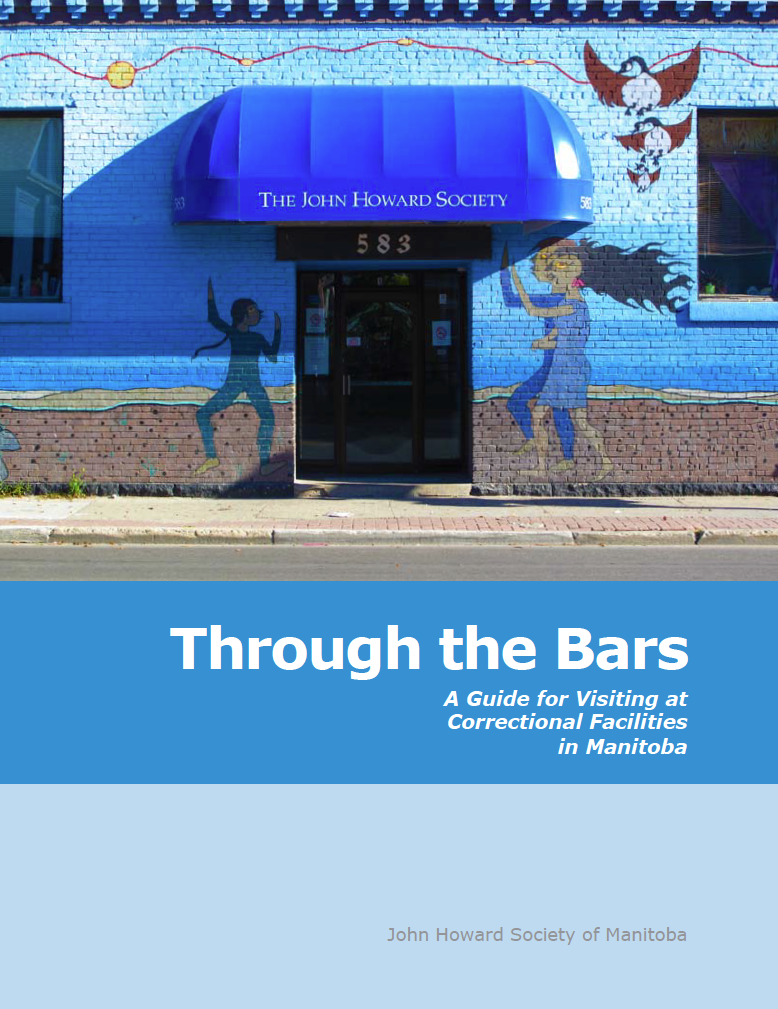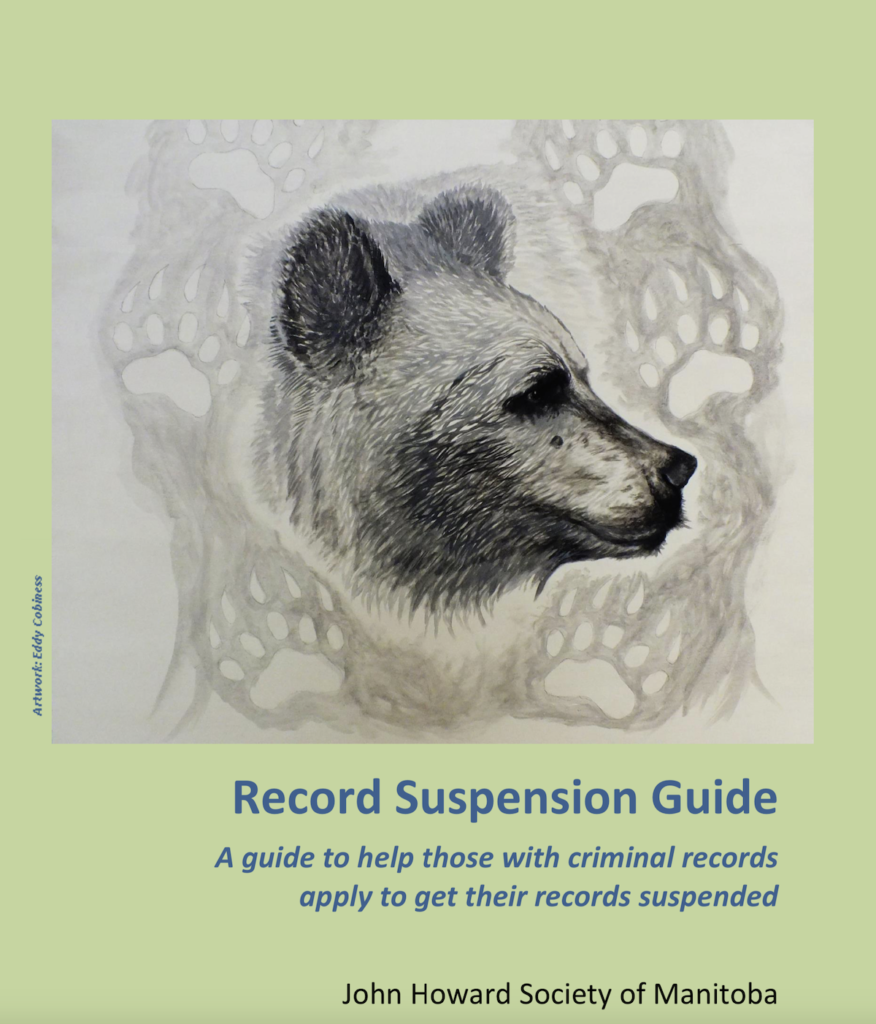 Record Suspension Guide
If you have a criminal record and have served your sentence, you can apply to have your record suspended. This guide included Frequently Asked Questions and a step-by-step outline of how to apply. See the full PDF here.