Change from the inside
Notice of office closure: Due to COVID 19 precautions and government orders, we are currently not open to the public. Please call for further inquiries. Staff will be checking email (see a staff listing here) and phone messages (see contact page here).
Dazhi-Mino'ayaawin

"

A place of good health

"
We offer programs, supports and resources, based on the principles of restorative justice, to our clients at their various stages of involvement with the justice system. We work primarily with men (18 and over), who have been or may be incarcerated, their families, victims of crime and the community to address the root causes of crime.
Our goal is to empower our clients, if found guilty, to take responsibility and be held accountable for the harm their actions have caused not just to the victims and the community but to themselves as well and to become engaged contributing members of society.
As well, we advocate on behalf of individual clients within the system and for effective, evidence-based and humane approaches to reducing crime and supporting those who are or have been in conflict with the law.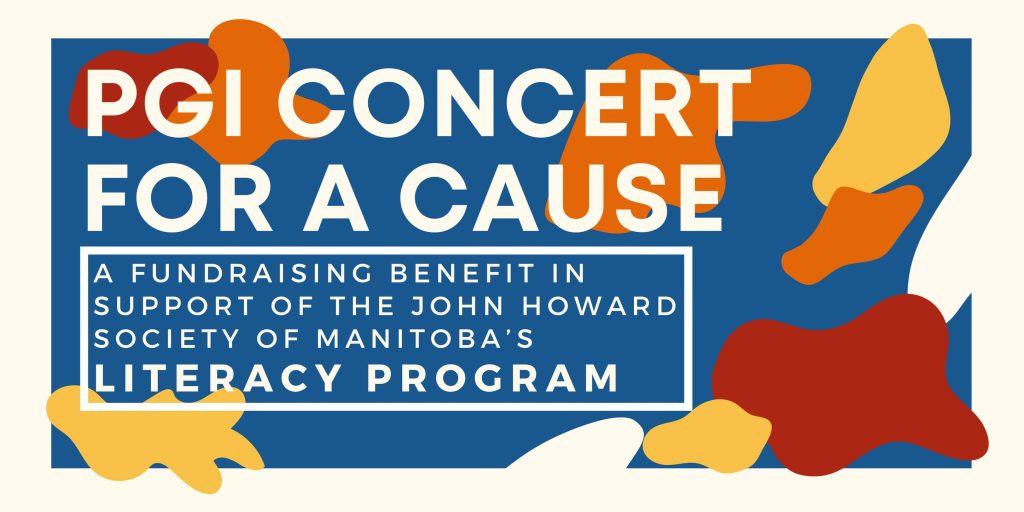 Fun, food, and a fantastic cause!
PGI Concert for a Cause Sept. 6, 7:00 p.m. This is a night for people to come together in support of the JHSM Literacy Program and help bring awareness to the challenges our students face. We'll have live music, a poetry reading, raffle prizes, awards, and complimentary snacks catered by Feast Cafe Bistro.
We are thrilled to announce music performers Sierra Noble and Super Duty Tough Work! We are equally excited to announce our poet laureate for the night, Scott Nolan! See the poster here. Get tickets here: jhsm.eventbrite.ca.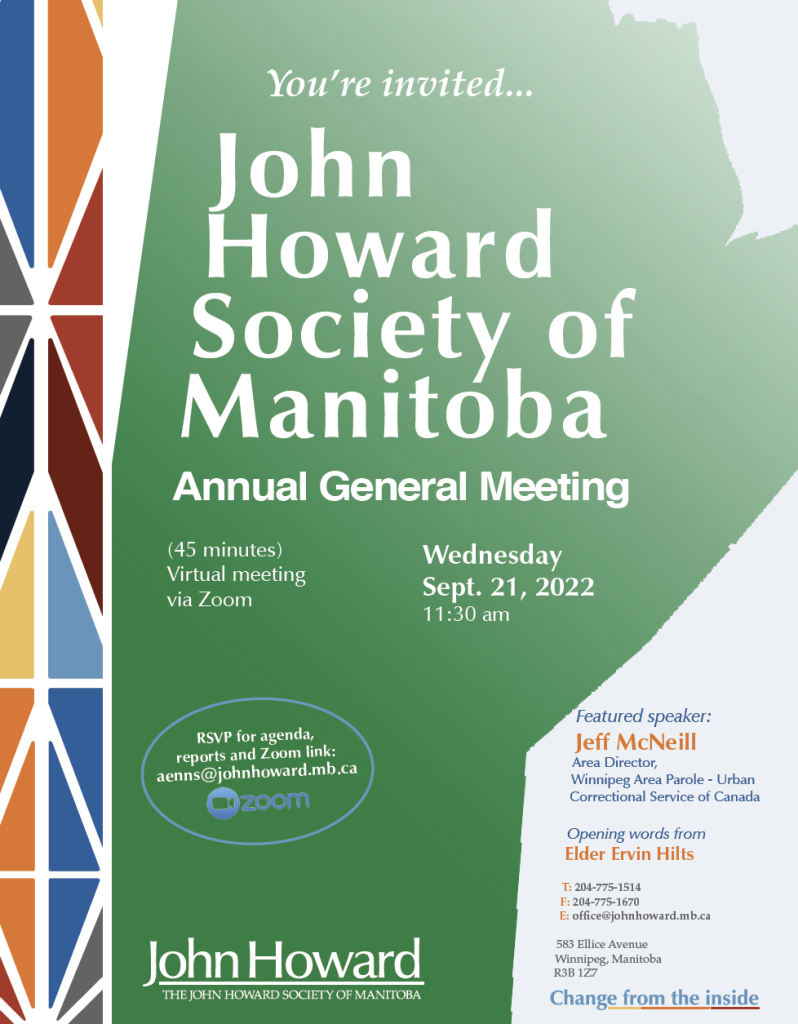 You're invited!
We invivite you to attend our Annual General Meeting, Wednesday, September 21, at 11:30am (45 minutes, online). Come hear a brief keynote address from Jeff McNeill, the Parole Office Area Director for Correctional Service of Canada, with opening words from Elder Ervin Hilts, an update of our activities over the past year, and new board members.  To RSVP for the Zoom link and receive an agenda, email: aenns@johnhoward.mb.ca.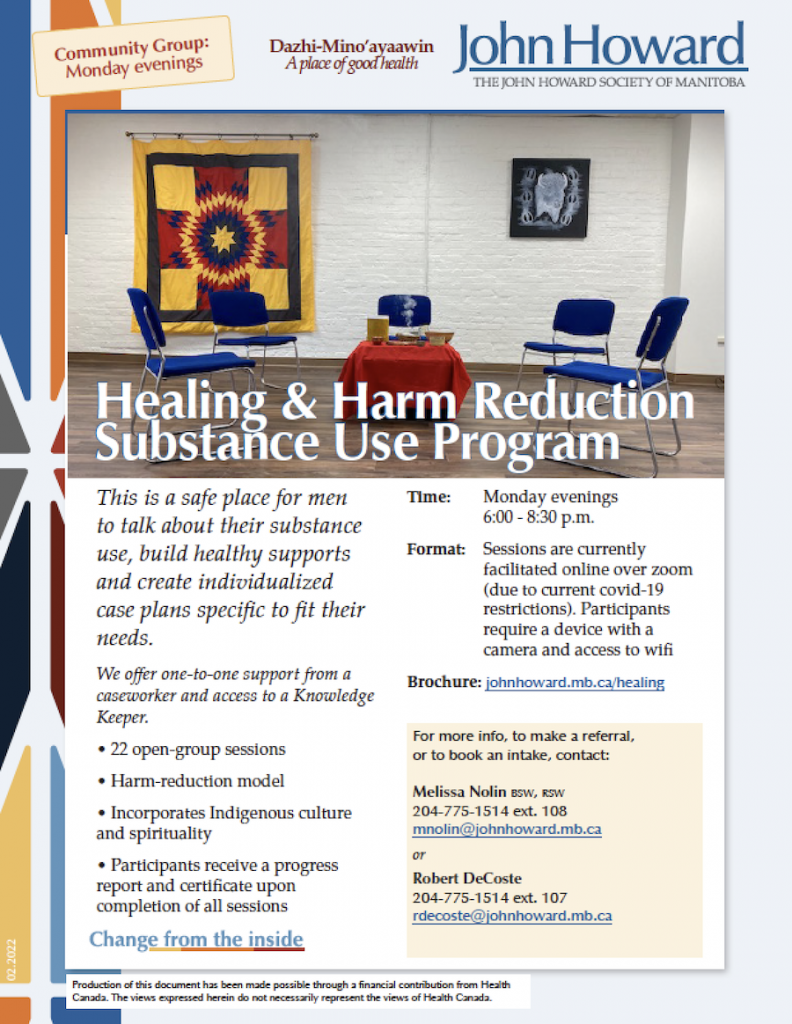 Healing and Harm Reduction Substance Use Program
A place for men to talk about their substance use and create plans specific to fit their needs; with one-to-one support from a caseworker and access to an Indigenous Spiritual Advisor.
This 22-session open group program looks at substance use from a harm reduction model while incorporating Indigenous culture. These sessions will run Monday's from 6:00 PM – 8:30 PM.
Due to COVID-19 restrictions, we are launching this new program online, through zoom, email and by telephone.
We are currently accepting referrals for Mondays, see the contact info below. See a poster at this link: Healing and Harm Reduction Substance Use Program poster.pdf
For more information or to book an intake please contact the program caseworkers:
Melissa Nolin, BSW, RSW, 204-775-1514 ext. 108 or mnolin@johnhoward.mb.ca
Robert DeCoste, 204-775-1514 ext. 107 or rdecoste@johnhoward.mb.ca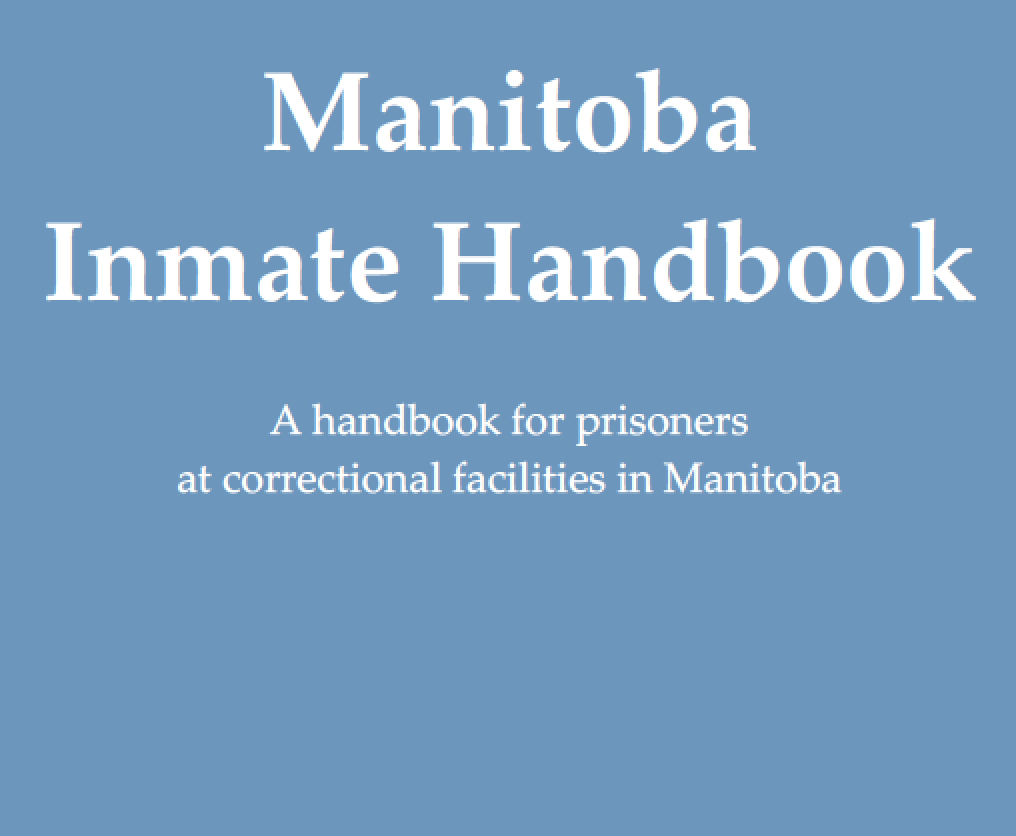 Info for newly convicted. If you have been sentenced to serve time in an institution here in Manitoba, check out the Manitoba Inmate Handbook.pdf to answer a lot of questions. It's a collection of info from our prison visitor's guide and government websites.
Community Programs (March 2022-April 2023)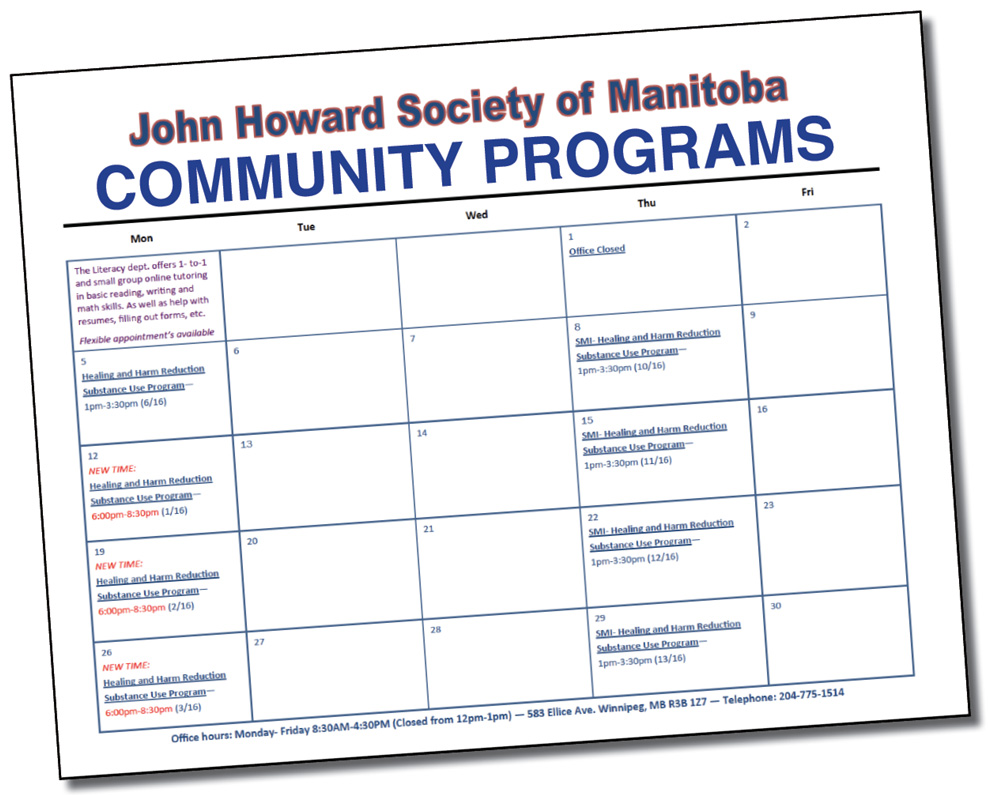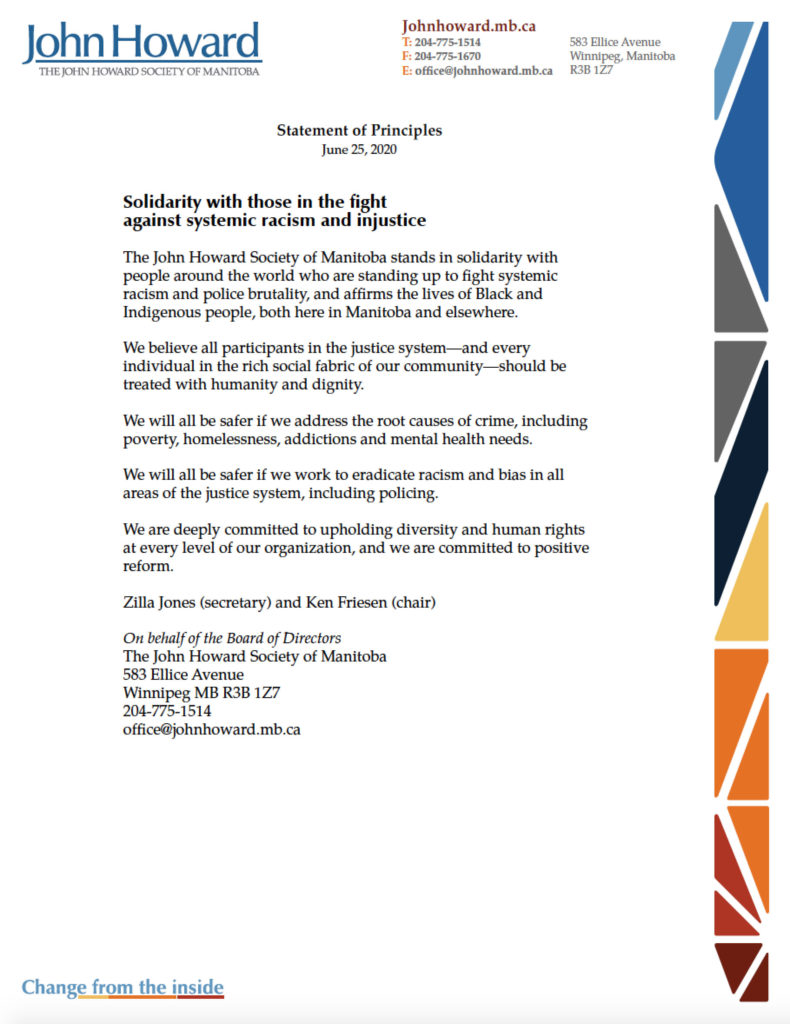 Statement of Solidarity The John Howard Society of Manitoba stands in solidarity with people around the world who are standing up to fight systemic racism and police brutality, and affirms the lives of Black and Indigenous people, both here in Manitoba and elsewhere. See our Statement of Principles here as a pdf.
Four Roads Healing Lodge
This is a new halfway house located in the heart of Winnipeg. We offer a variety of supports for men who have been incarcerated.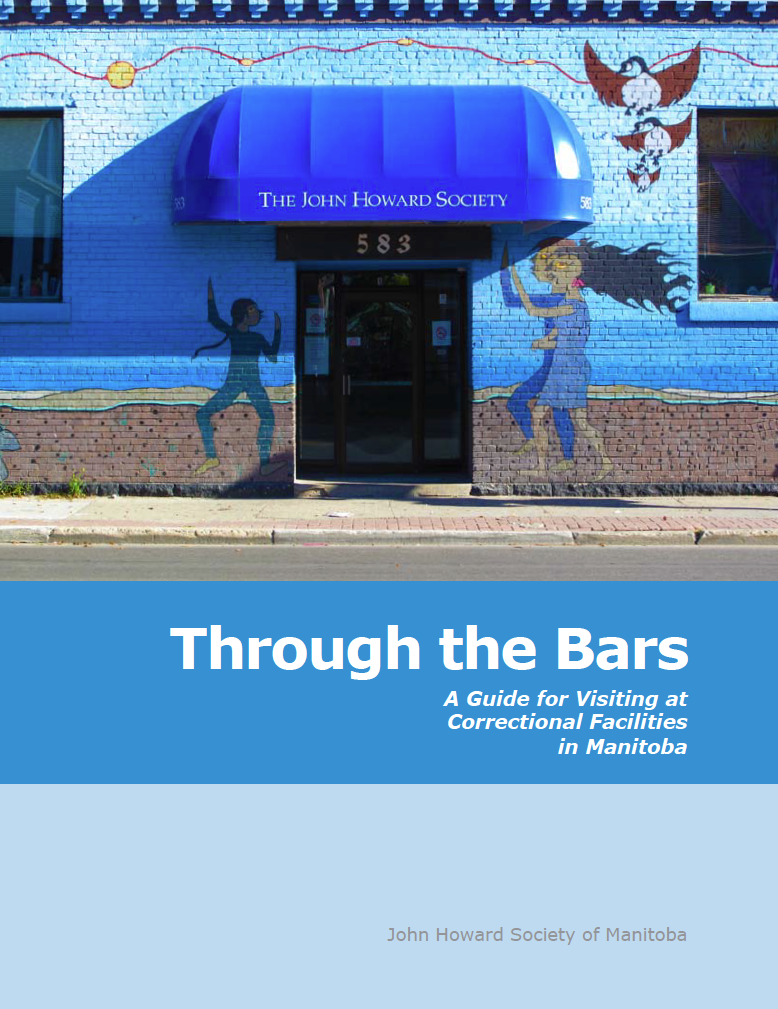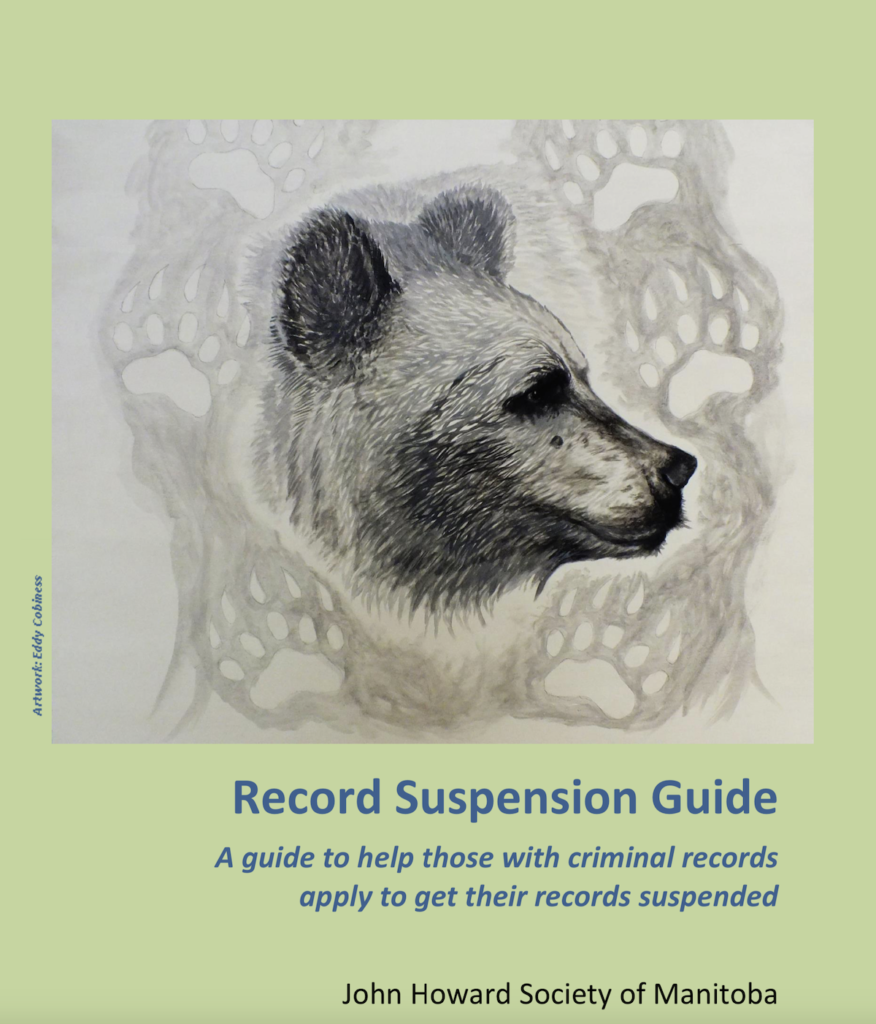 Record Suspension Guide
If you have a criminal record and have served your sentence, you can apply to have your record suspended. This guide included Frequently Asked Questions and a step-by-step outline of how to apply. See the Record Suspension Guide pdf here.