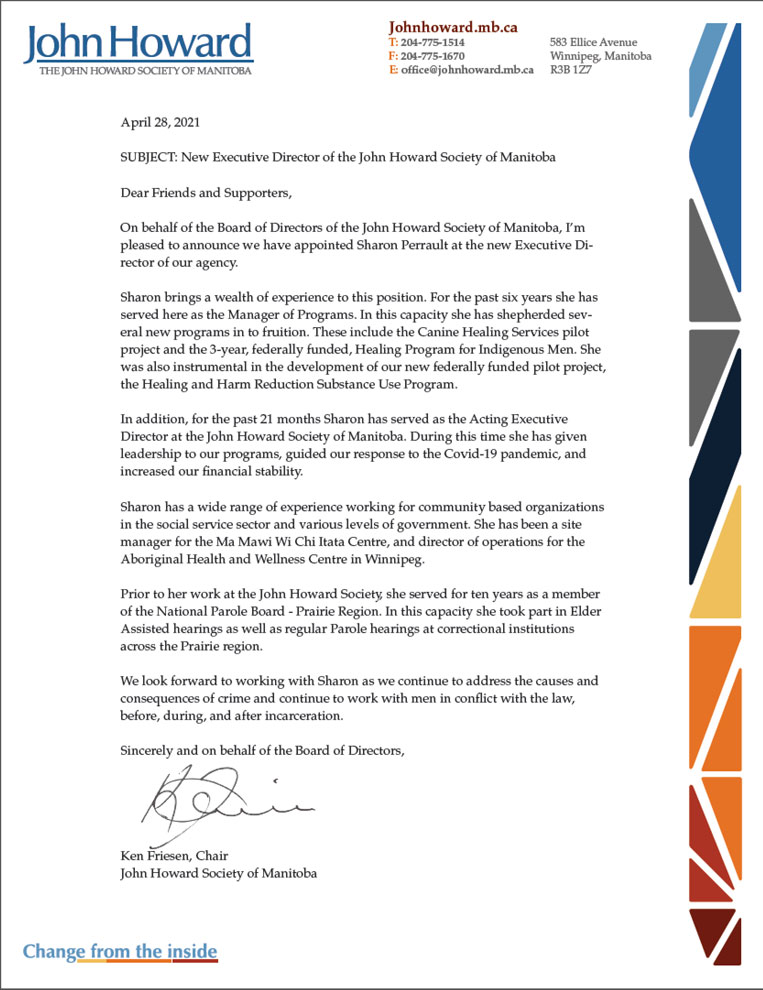 New Executive Director at the John Howard Society of Manitoba
We are pleased to announce that Sharon Perrault has been named the new Executive Director of the John Howard Society of Manitoba. See press release here.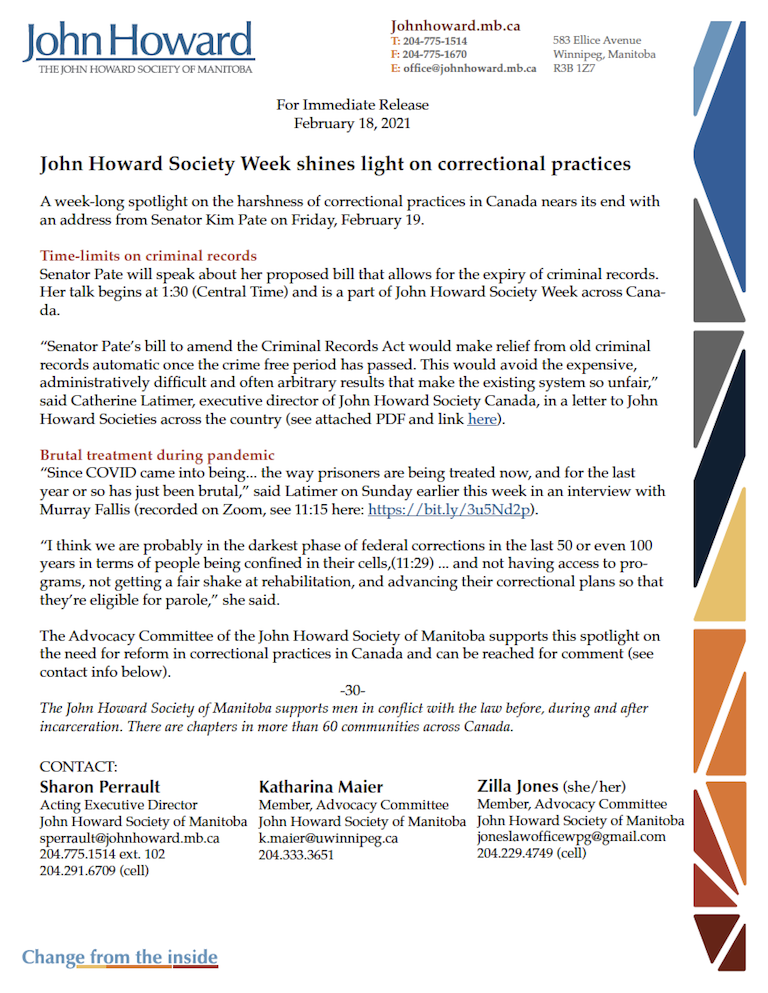 John Howard Society Week shines light on correctional practices
A week-long spotlight on the harshness of correctional practices in Canada nears its end with an address from Senator Kim Pate on Friday, February 19. See press release here. See an outline of all the events from John Howard Society Canada here.
October 7, 2019 'Life with Dogs' helps men in conflict with the law
If you been in trouble with the law and want to get your life back together, it's great to have a friend who won't judge you for past mistakes. Sometimes this friendship can be found in time spent with dogs.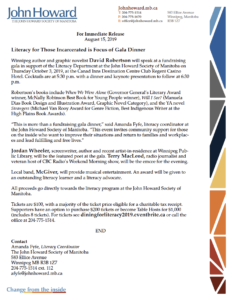 August 15, 2019, Literacy for Those Incarcerated is Focus of Gala Dinner
Winnipeg author and graphic novelist David Robertson will speak at a fundraising gala in support of the Literacy Department at the John Howard Society of Manitoba on Thursday October 3, 2019, at the Canad Inns Destination Centre Club Regent Casino Hotel.
October 22, 2018, A Criminal Record Does Not Disqualify Residents from Voting
Those who have a criminal record can still vote in Wednesday's civic election, providing they meet other criteria for eligibility.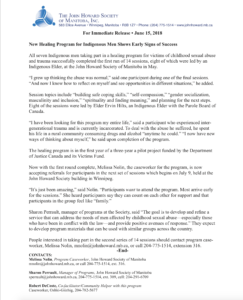 June 15, 2018 – New Healing Program for Indigenous Men Shows Early Signs of Success
All seven Indigenous men taking part in a healing program for victims of childhood sexual abu seand trauma successfully completed the first run of 14 sessions, eight of which were led by an Indigenous Elder, at the John Howard Society of Manitoba in May.
February 7, 2018 – Community paper highlights JHSM 60th anniversary. The local paper, The Metro, interviewed executive director John Hutton about the upcoming celebration on February 23. "It's a way for community sponsors and clients to show their support for the organization."
December 21, 2017 – Inmate Advocates support Province's Responsible Reintegration Initiative
December 6, 2017 – JHSM launches program for male victims of childhood sexual abuse
November 9, 2017 – Bail program shifts from residence to community
June 14, 2017 – John Howard Society keeps key services despite funding cuts
March 8, 2017 – Laying fewer charges will help reduce overcrowding
Manitoba has a higher proportion of adults in custody than any other province.
We lock up people more frequently than Saskatchewan by 17 per cent and three-and-a-half times more frequently than B.C., according to a Statistics Canada report from last week.
Overcrowding in prisons — and especially remand centres — is a growing and serious problem. … Read the entire article here. (See the Winnipeg Free Press here)
February 17, 2017 – Mandatory Minimum Sentences Are a Problem
See the Winnipeg Free Press here.
January 17, 2017 – Grand Opening for the "We Fit You Closet"
December 7, 2016 – 4 documents encourage response to survey on pardons, deadline extended to December 16, 2016

1. JHS Canada encouragement to respond to government survey
2. JHS Canada response to Public Safety survey
3. CBC article, "Pardon system's harsher rules block ex-criminals from jobs, housing"
4. Sample letter to minister regarding changes to the Criminal Records Act
November 21, 2016 – Announcement of Restorative Justice Event, Nov. 24, 2016
August 8, 2013 – Segregation story only a quarter of the story
March 8, 2013 – Federal and Provincial Governments Failing Aboriginal Communities
March 8, 2013 – Assembly of MB Chiefs Respond to Special Report on Aboriginal Corrections
November 8, 2012 – New mandatory drug sentences taking effect
November 2, 2011 – Promise to fix crime in Winnipeg comes up empty
October 18, 2011 – Federal Government to throw millions of Canadians under the Omnibus
September 29, 2012 – Pardon costs increase
Press releases from our national office:
July 18th, 2012 – The True Cost of "Tough on Crime"
September 16, 2011 – The Omnibus Crime Bill
April 15, 2011 – Criminal Justice Issues and the 2011 Election Campaign
January 13, 2011 – Where Does the Law and Order Agenda Take Us?
December 15, 2010 – JHS Canada Response to the Report on Mental Health and Drug and Alcohol Addiction in the Federal Correctional System