Healing and Harm Reduction Substance Use Program
The John Howard Society of Manitoba is pleased to announce it has received three-year funding from Health Canada's Substance Use and Addictions Program to develop and implement a "Healing and Harm Reduction Substance Use Program" in Winnipeg.
Indigenous Elder services
The agency has been approved for funding in the amount of $476,798 for a period of 39 months to create a new program that includes weekly open support groups, case management, and Indigenous Elder services.
"We expect this program to play a crucial role in the healthy reintegration of formerly incarcerated individuals back into their families and communities," said Sharon Perrault, Executive Director of the John Howard Society of Manitoba.
Open-group format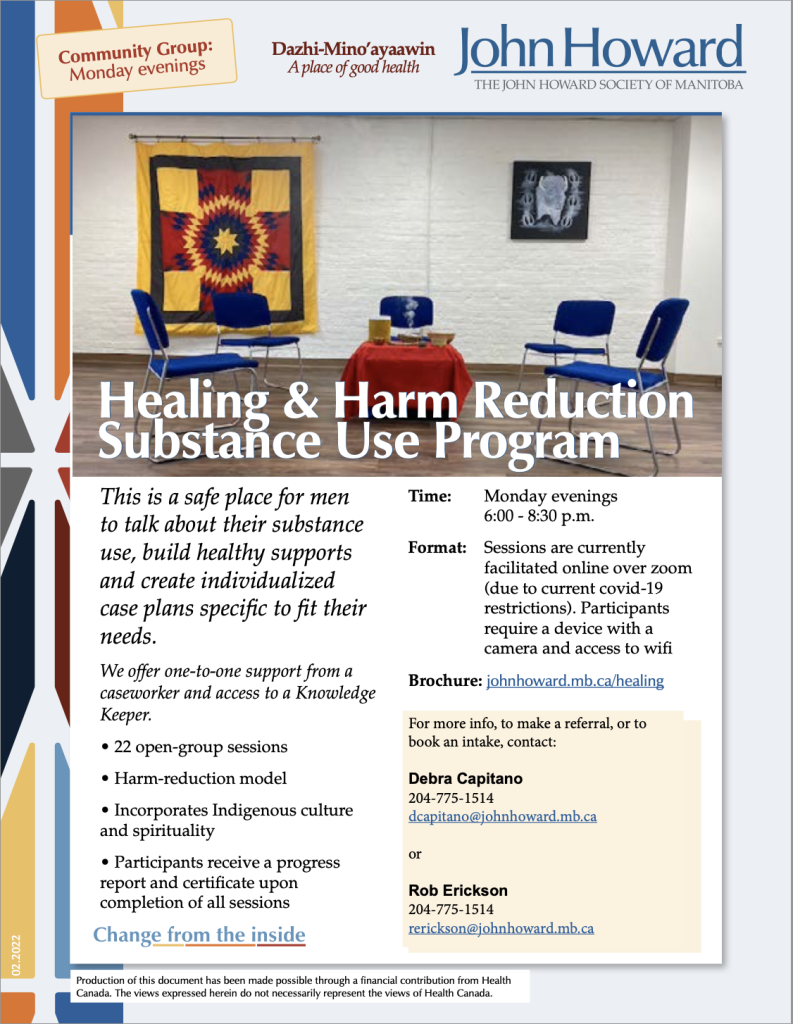 The open group will rotate through a series of 16 topics related to substance use, trauma, the Indigenous experience, and harm reduction strategies for problematic substance use. The sessions will include information, activities, opportunities for sharing, and Indigenous teachings and ceremonies.
The program addresses the isolation from culture, community and services experienced by Indigenous men due to their trauma and subsequent problems with substance abuse and the law.
Culturally-based programming
"Our goal with this program is to provide culturally-based substance abuse programming that speaks to and is informed by the Indigenous experience," said Perrault.
Funding includes allocation for evaluation of the program and the creation of program manuals that can can be adopted by other agencies.
Welcome to attend
All Indigenous and other men who seek healing from substance use are welcome to attend one or more sessions in this ongoing program: 16 open sessions, traditional teachings, medicine wheel. Mondays 1:00pm-3:30pm.
To join, schedule an intake session with caseworkers Debra Capitano or Rob Erickson, phone our main office number, 204-775-1514, or see our Contact page for staff info.