The Inside Scoop is a newsletter filled with poetry, stories, recipes, editorials, and artwork submitted from incarcerated men and women from across the country.
Click on the Season/Year to view the full edition.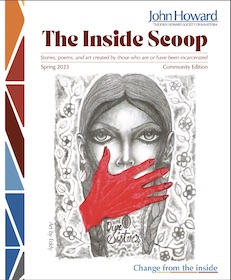 Read on a screen; click on the image at left, or this link.
Print as a booklet: 1. Download this print version; 2. In print settings, select legal size paper (8.5" x 14"), select print both sides of page, and select "flip on short edge"; 3. fold in half to make a booklet.