Life with Dogs
This is an 8-session introduction to the world of dogs and how to care for them.
Session topics
For example, in the first session you can expect to learn about the history of dogs, about Indigenous culture and the Wolf clan, about dogs with jobs, and different breeds of dogs.
Get a brochure for this program
In other sessions you'll learn about:
• dog selection
• caring for your dog
• grooming
• how to choose food for dogs
• travelling with your dog
Leadership
Leadership will be provided by master trainer George Leonard (Mehgan Search and Rescue).
Start dates
Sessions begin in September and January.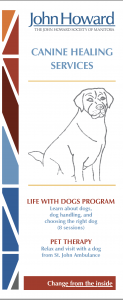 Program details
It will operate in an open group format, allowing individuals to attend sessions they might have missed the first time, in the second running of the program.
Program Criteria
Participants must be men that are 18 years of age and older and who have been involved with the criminal justice system in some way.
More information
Contact the Program Coordinator:
Phone: 204-775-1514 ext. 107
Email: kjohnston@johnhoward.mb.ca
Individual Pet Therapy
We offer individuals the opportunity to participate in Pet Therapy, with St. John Ambulance's therapy dog program.
Participants in this program attend a 30-minute pet therapy session, every second Friday. They spend time with the dog, along with their handler and the Canine Healing Services Coordinator.
Program Criteria
• Men (18+) who have been involved with the criminal justice system
• Able to attend 30-minute sessions, every other Friday (to be scheduled between 10 a.m. and 11a.m.)
• Must be referred
For more information
Contact the Program Coordinator:
Phone: 204-775-1514 ext. 107
Email: kjohnston@johnhoward.mb.ca